Seller Tips
Seller Tips for Residential Real Estate For Sale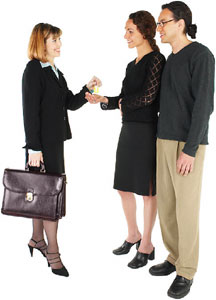 Since your home is likely your largest asset, it's important that you maximize its value when deciding to put it up for sale.  Hiring a real estate agent can help you do just that, as he or she can help you set the appropriate asking price, help you find qualified buyers and help you optimize the appearance of your home to attract buyers.
Selling a home is often not a decision that is made over night; if you're considering putting your home on the market, here are some tips that could aid you in your decision making process.
First impressions leave lasting impressions.  When showing your home to prospective buyers, make sure it's in pristine condition; that means the grass is cut, the shrubs are trimmed, the steps and pathways are clear, the paint job is up to date and the areas you're showing is clutter-free.
Space, space and space.  Buyers like to imagine their possessions in homes they're viewing, so make sure the rooms inside your home have ample space and that all unnecessary items have been removed (at least for the time being).
Light a candle to create a welcoming smell; Would you want to buy a home that smelled like pets or cigarette smoke?
Let the light shine on your home. Be sure rooms are well-lit and that you use natural light to your advantage by opening all of the shades in your home.
Hire an expert to handle negotiations.  It is smart to have a real estate agent show your home and answer common buyer questions.  Also, he or she can provide a businesslike attitude to negotiations, and help close the deal on your behalf.
For those considering listing their homes or real estate for sale in Southeast Alabama, be sure to contact the experts at Century 21 James Grant Realty today.